Your GoTo Expert For These Services
Water Babies, is the leading baby swim school offering specialist classes for babies and toddlers from birth to 5 years old.  Lessons take place at several locations across Buckinghamshire and Bedfordshire and consist of structured, fun classes, teaching the basic concepts of swimming in a fun way so that both child and parent are learning together.
Introducing your baby to the pool can do wonders for their growth. That's because all the things that we teach your baby in the water are structured to align with their key development milestones. And not just their physical ones, but their cognitive ones too.
https://www.youtube.com/user/Waterbabiesuk 
Being in the water helps your baby move independently before they can crawl or walk. It's a safe place for them to explore their balance, meaning they'll become a lot more coordinated out of the water too – so less bumps as they learn to stand on their own two feet!
Cross-lateral movements (ones that cross the midline of the body) like reaching for a ball help with hand-eye coordination.
Activities like chasing toys (or grasping hold of them to give them a good ole' chew) in the pool help with those finer motor skills; those smaller movements that occur in the wrists, hands, fingers, feet and toes.
Swimming strengthens their heart and lungs as well as their arm, leg and neck muscles.
Bouncing and splashing in the water stimulates the vestibular system, aiding balance.
Baby swimming is proven to help with little one's eating and sleeping patterns.
Water Babies have classes from 0 to 5 years @ https://www.waterbabies.co.uk
Ready to start swimming?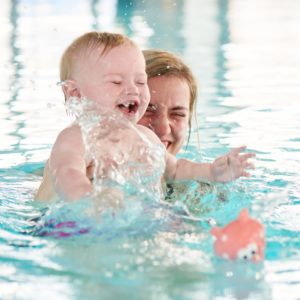 Click your region below to find your local lessons.
https://www.waterbabies.co.uk/lp/baby-swimming/bucks-and-beds
Reviews in association with Facebook & Google
"I have been swimming with water babies with both my daughter (now 3 1/2) and my son (now 22 months) since they were 3 months old. It has and still is a great experience to see how they develop in the pool whilst also teaching them some great safety skills for when they are older. The first few months can be quite daunting when Learning how to take your child underwater but you soon get used to it (as do they). At times lessons have been hard work when they struggle with the 'water wobbles' but if you stick with it it's a great outcome. It makes me so proud to see my daughter swim on her own at such a young age. She can now swim a width (approx 10 metres) on her own without armbands or other swimming aids.

The lessons are not cheap but I would have no hesitation in saying they are worth it. It's great to have an activity you can really do together whilst your child learns and you can make new friends. Not only do they learn to swim but it also gives them self confidence to do new things. My recommendation would be give it a go, and don't give up too quickly if your child appears not to like it, they will come through it and you will soon have your own little fish like I have."

"I started going to waterbabies when my little girl was 8 weeks old, not only for her but for me too. From our very first lesson we both absolutely loved it. It's great for my little girl to learn water safety as well as swimming, and she loves the songs and water toys and it's great for me to meet other mums and get some exercise.

I know it seems the cost is quite high but once you go you can see why, the staff are incredibly knowledgeable and friendly and always try to accommodate your needs. I have to say one of the best bits of waterbabies is the underwater photo shoot, you don't have to do this but at the end of every term it's on offer if you want to have some amazing photos of your little one taken underwater. I can't fault waterbabies at all and I always recommend my friends to go. The smile on my little girls face every week is enough to make me carry on.
Thank you waterbabies!"