Your GoTo Expert For These Services
There are three buildings which are registered for weddings here at Furtho, you can use Furtho East, the Barn or the Gazebo down by the Lake.
In addition St Bartholomew's Church Furtho is on site. This mediaeval Church is in the care of the Church Conservation Trust and is only available for blessings.
Situated in the countryside on the Northamptonshire / Buckinghamshire border, Furtho Manor Farm is one of the 'lost villages' of the East Midlands with only the church and a 15th Century dovecote remaining. Steeped in history and traditional charm, it would make for the dreamiest of venues for you to host your wedding.
Nowadays, Furtho Manor boasts a stunning barn with ample space for your entire day's proceedings. The barn acts as a blank canvas for you to create a space that's as wonderfully unique as the love you share. What's more, Furtho Manor Barn is licensed to hold both marriage and civil ceremonies in either the barn, gazebo, or their ceremony room, meaning you can spend the day basking in the beauty of this rural venue. When booking with Furtho Manor, you will be in no short supply of breathtaking scenery for your wedding photos, with the dovecote, church, and serene lake all within view. What's more, you can even take advantage of the intimate St Bartholomew's Church for a blessing of your love.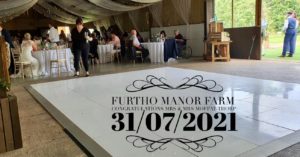 Furtho Manor Barns also has a range of comfortable accommodation for both you and your guests to spend the night in. Both The Farmhouse and The Lodge are ideal places for you to rest your head after what is sure to be a monumental day as well as ample space if your guests would like to camp.
For more information on how Furtho Manor Farm could play host to the wedding you've always dreamt of, please do not hesitate to contact them.
Services
Office space and storage lets
Wedding & Party Venue
Events
Bed & Breakfast
Working farm
Review in association with Facebook & Google 
"The perfect wedding venue. A slice of rural beauty tucked away off the A5. Linda and Robin provided us with a blank canvas to create the wedding exactly how we wanted it. They were so helpful and approachable every step of the way and their experience of hosting events was invaluable.
Our wedding photographers commented on just how picturesque the venue is. Whether it's the barn itself, the church, the dovecote, the lake or the rolling fields filled with sheep. There are phot
o opportunities everywhere you look.

The farmhouse provides great accommodation, and for other guests, there are plenty of hotels in nearby Stony Stratford.
We cannot recommend Furtho Manor Farm enough. Thank you to Linda and Robin for providing us with the best place in which we had the best day of our lives." Charlie and Stacey