Your GoTo Expert For These Services
Hello everyone! My name is Julie and I run Children Inspired By Yoga Milton Keynes, South Northants, North Bucks and Beds.
I came to Children Inspired By Yoga over five years ago now, and I am continually inspired by all the children I teach, every day. The Sanskrit word 'Namaste' sums up everything teaching yoga to children means to me – The light in me, honours the light in you'. Every child is unique, and has a special quality. In our classes, every child can achieve.
Seeing babies and children engage with the magic of Tatty and Baby Bumpkin – developing their little bodies and minds and helping them discover the basics of wellbeing for their future – fills me with joy with every adventure.
Teaching Tatty Guroo and Yoga Guroo in schools is a privilege to be a part of the children's future learning journey, sharing wellbeing tools for teen life and beyond. Having suffered with anxiety, as a teen myself, I really want to share the magic that is yoga, so every child has the knowledge and ability to cope with whatever life may bring their way.
I'd love to meet you and your children, and share the magic of yoga with you too!
Children Inspired by Yoga is a unique yoga programme developed by educationalists, yoga teachers and paediatric physiotherapists. Classes are available at local nurseries, preschools, primary and secondary schools in Milton Keynes and surrounding areas. We also offer private sessions tailored to the child's needs.
Innovative yoga programme for children aged 0-16 years
Progressive and adapted for children of all ages, stages and abilities
Promotes physical, social, emotional and mental wellbeing
Builds strong skills and foundations for learning and life
Aligned to the EYFS and national curriculum (key stages 1-4)
During our sessions, children have dedicated time and space to:
Develop physical flexibility and strength as well as breathing skills
Experience moments of stillness, feelings of calm and relaxation to support self-regulation
Build cognitive skills such as attention, concentration and memory
Express their thoughts and feelings to promote emotional wellbeing
Explore creativity and communication whilst building social confidence
Gain crucial skills for learning and life
All our teachers are qualified on our specialist children yoga programme. We also hold Enhanced DBS checks, are fully insured and have up to date Paediatric First Aid and Safeguarding training.
Please do get in touch if you would like to see our programme in your setting or to find out about our private sessions.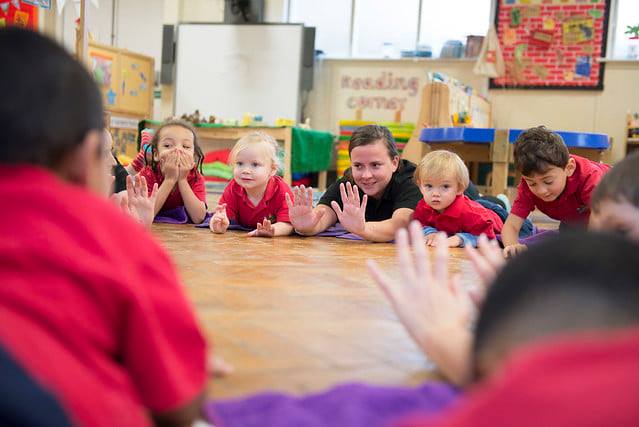 Yoga is a skill for life. It helps grow physical strength and balance whilst enhancing focus and concentration. It supports children on their educational journey both in the classroom and on the sports field. Sessions are held in school time and at clubs – before and after school – delivered by our accredited teachers, on site. Sessions can be tailored around specific topics, helping Primary Teachers fulfil learning criteria.
Reviews in association with Facebook & Google
"Me and 16 month old son absolutely love the Baby Bumpkin classes. It's so amazing to see him watching me and the other parents and children and copying and joining in with the yoga moves. It's lovely class to bond and have fun together!"
"Really enjoyed your online session this morning, I took my 1st son to the Baby Bumpkin classes a couple of years ago when he was little and was really looking forward to doing the same with our 2nd son. So nice to still be able to do this online and shut off from the outside world for a while. Looking forward to joing you again!"