Your GoTo Expert For These Services
Keats Family Law is an independent Specialist Family Law and Divorce solicitors firm based in Milton Keynes.
We specialise exclusively in Family Law so you know that you will be getting expert advice and support.
If you are looking for tailored advice for your Family Law matter, call our Family Law & Divorce Specialist, Gemma Keats for a free introductory chat to discuss how she can help you and to find out more about our #Fixedfee initial appointment.
Alternatively, visit our website: https://keatsfamilylaw.co.uk/
DIVORCE, SEPARATION & RELATIONSHIP BREAKDOWN
We will assist and advise you through your divorce or separation. We will ensure that the process is as straightforward and stress-free as possible.
FINANCES
We are experts in financial settlements attracted to divorce & separation. We have a particular specialism in cases with high income and substantial assets.
ARRANGEMENTS FOR CHILDREN & PARENTAL RESPONSIBILITY
We will guide you through the legal and practical side of any child arrangements as a result of your separation or relationship breakdown.
MEDIATION
We will support you through the mediation process. In addition, we will help you ensure you reach a fair agreement that is right for you and which can become legally binding.
UNMARRIED COUPLES LEGAL RIGHTS
Whether you are thinking about moving in together or your relationship has broken down we will advise you of your legal rights.
DOMESTIC VIOLENCE & ABUSE
If you are experiencing abuse or are facing allegations from a partner, we will help you with the legal arrangements to keep you and your children safe.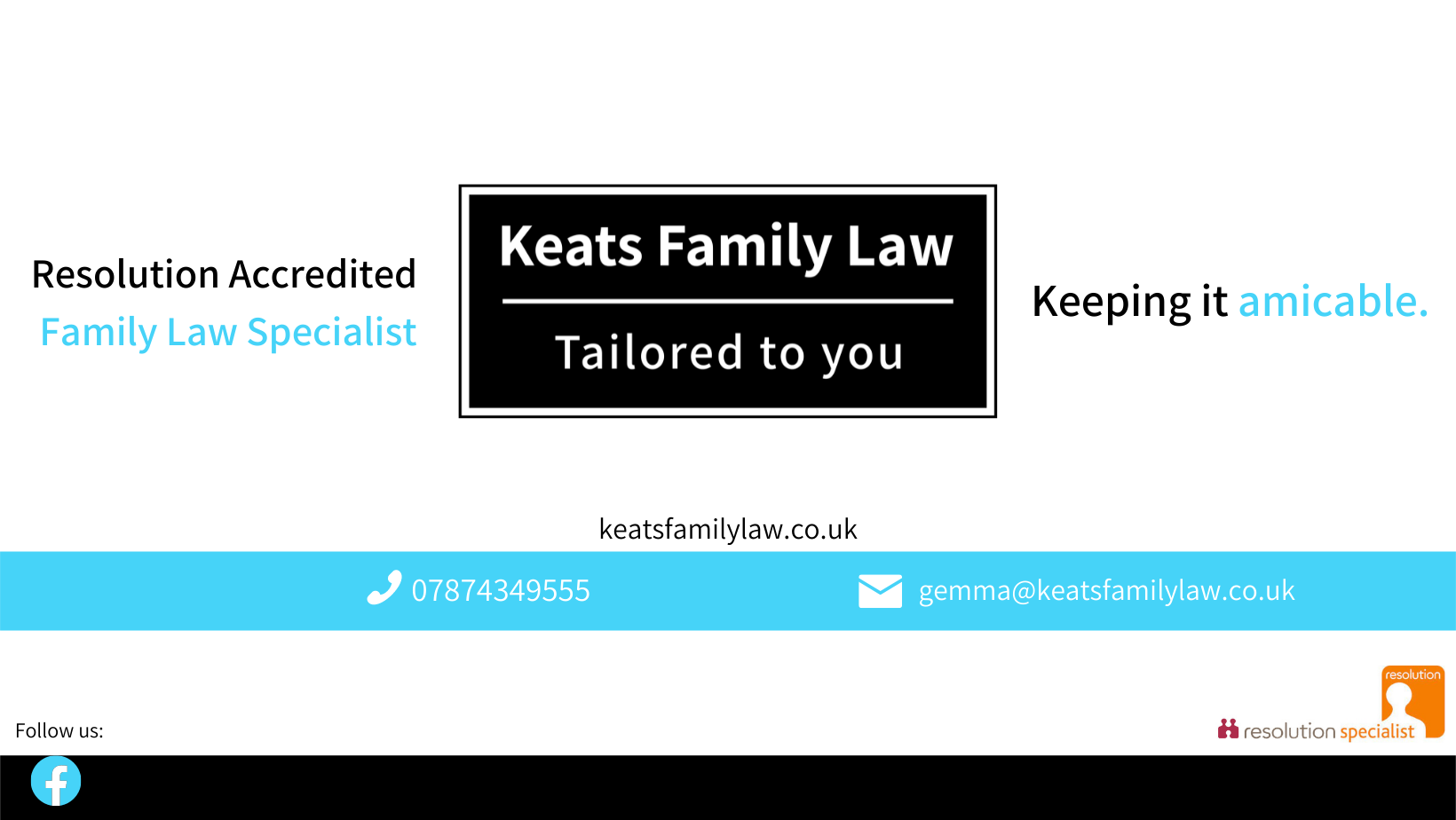 Reviews in association with Facebook & Google
"I highly recommend Gemma to anyone who is looking for an honest and supportive solicitor. She is very hard working and goes above and beyond to help assist her clients to the very best of her ability. I could not fault her at any point in my very difficult and lengthy divorce. Gemma made sure that she kept on top of the case at all times. At times, i found things very difficult but she was always there to uphold and guide me through. Gemma settled my case and was very successful. She thoroughly checked over all details to ensure myself and my children could move on without any worries. Her professionalism, aftercare and genuine compassion for her clients is incomparable. I will never be able to thank her enough for being so amazing and it is transparent that she truly wants to help people."

"Gemma Keats helped me with a longstanding dispute following my separation. I initially used a different solicitor, but this did not resolve matters. However, Gemma provided honest and realistic advice from the start. She helped me to remain calm and she was highly supportive throughout a very difficult time in my life. Gemma was professional and her experience, advice and guidance was invaluable. She helped me to avoid court proceedings and was able to resolve the matter for me. I can't thank Gemma enough for her help and support. I would highly recommend Gemma; in fact, I have already passed her details on to a couple of people."

"Gemma is a professional individual, who takes pride in her work, and works to an exceptionally high standard. She is reliable, discreet, and personable. I would wholeheartedly recommend her."