A Quick Guide to ALL offers on card – 50 Businesses!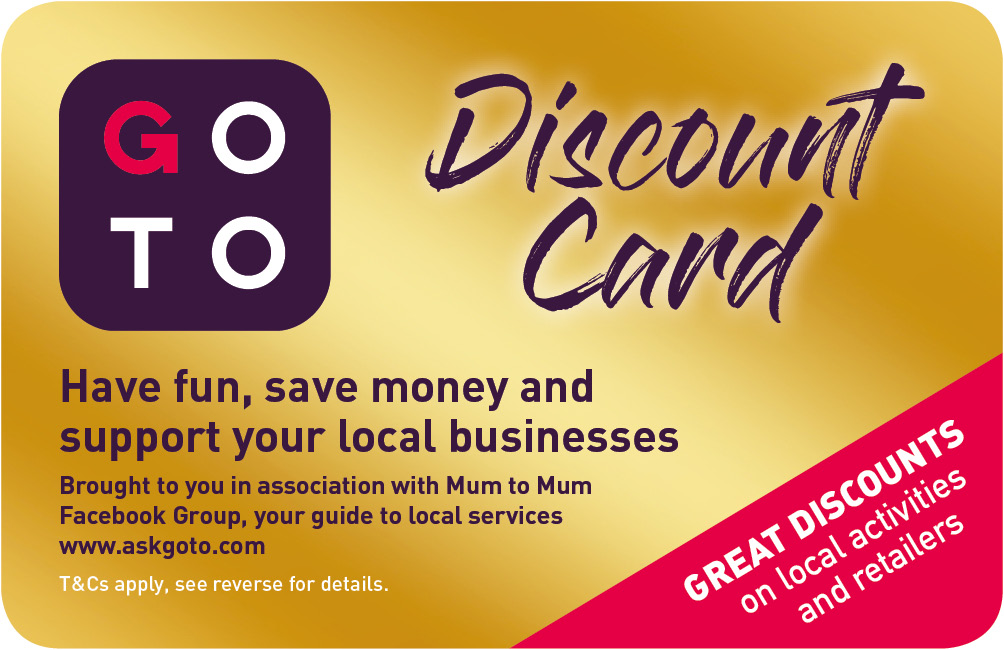 Buy Your Card
Business & Finance:
Save £45: mini-review of your website, digital channels and e-mail marketing for only £150 + VAT
Mayfair Financial & Mortgages
Save up to £200: £195 broker fee for our typical fee for a residential or buy to let mortgage.
Classes & Groups:
10% discount on all baby courses and baby massage oil purchases
10% off sessions booked at Little City – Milton Keynes
FREE 1st session
FREE Taster session
Offer 1 – 10% discount off our Antenatal classes
Offer 2 – 5% discount off our baby and toddler term bookings (not applicable to trials and ad hoc 
bookings).
2 free classes for new students.
10% discount for any new customers
Offer 1 – 20% off a course for new customers £33.60 instead of £42
Offer 2 – 10% off existing customers £37.80 instead of £42
25% off one of our services online tuition/webinar/bespoke learning package
Offer 1 – Free trial class to new customers.
Offer 2 – 10% off a block booking (not valid on Saturdays) ages 1-5.
20% discounted 3 week trial for new customers. 
FREE trial (usually £5) for any child who wishes to try out one of our classes.
1st month FREE when people sign up to SOCATOTS Classes.
Toddler Sense Milton Keynes
20% discount on all classes
Offer 1 – FREE eco nappy when you book.
Offer 2 –  if you swim with us and recommend a friend you will receive a £10 voucher.
15% off the first block booking (of ten sessions).
** New Offer ***
Entertainment & Leisure:
Offer 1 – 25% off off-peak entry (Monday to Friday term time).
Offer 2 – FREE birthday child at a party.
Add a FREE go on the thrilling Vertical Drop Slide to your booking.
£10 0ff Mascot or costume hire
20% off Adventure Golf
10% off games booked
Offer 1 – Free 2nd hour bounce (Mon-Fri only (off peak)
Offer 2 – Birthday Boy or Girl goes FREE – Worth £16.95 to £21.95 (minimum booking size 12 or more)
10% off all party bookings
10% discount 
£10 off any hire package 
Offer 1 – Book a Birthday Party and get the birthday child free (minimum 10 children for all parties).
Offer 2 – 10% off pitch hire Friday, Saturday and Sunday (telephone bookings only).
5% off Photobooth packages
Add 4x Rody Hoppers to any Soft Tots MK booking for FREE 
Offer 1 – Buy 1 hour online and get 2nd hour free (check availability for 2nd hour online).
Offer 2 – Birthday boy or girl goes free with a party booking (10 or more).
Offer 3 – 10% off VR Hire (£150 normally,  £135 for Discount Card holders) – 15 guests max.
Offer 4 –  SuperCombo for £22 – £5 off, Monday to Thursday on walk in bookings only, dependent on availability.
Estate Agents:
Keller Williams Estate Agents
Offer 1 – VAT free home selling fees. When you sell a property through us we will pay your VAT! (expiry date 31st March 2023) 
Offer 2 – Win a free luxury hamper worth £150 or £150 John Lewis gift card when you refer friends and family for a house selling appraisal/valuation and the property sells through us!
Fitness & Sports:
Offer 1 – £100 off your first course of one on one PT. 
Offer 2 – £50 off your first course of small group PT.
Offer 3 – Your first 2 weeks FREE at Buggy Bootcamp and Mk Trainer classes.
FREE Taster class.
Food & Drink:
10% off orders placed
20% off your food bill.
10% off Dine in and collection orders.
20% off collection orders (Monday to Thursday).
A free glass of wine with a main meal (Discount card holder only)
5% discount on in-person purchases made directly from Willen Ice Cream at one of our regular markets.
Hair & Beauty:
Beauty and Nails by Reena
£5 of any treatment over £30
Bloom Beauty, Hair & Education
Receive a FREE consultation, patch test and bespoke treatment plan for Laser Hair Removal – saving 
£25.
Offer 1 – £5 off any treatment over £30
Offer 2 – 10% off your 1st online booking
Health & Wellbeing:
CB Sports Therapy and Rehabilitation
10% off discount on 60 minute appointments
10% off your first appointment
Offer 1 – £10 off your first acupuncture treatment 
Offer 2 – Free complimentary cupping massage on your first treatment 
Offer 3 – Buy 4 treatments, get the 5th treatment free 
Offer 4 – NHS workers get £10 off every treatment
FREE token towards your Powertype profile
10% off any scan over 16 weeks
Shopping:
10% discount across all services and products.
Buy 2 Get 1 Free Learning Set or Portable Learning Board of your choice.
Buy Your Card